GradGuard's
Frequently Asked Questions
Let GradGuard answer your insurance questions. Select your topic below:
Renters Insurance Questions
We are able to pause your current renters insurance policy for up to 6 months and have it resume at a later date! You do need to be on the monthly billing cycle to take advantage of this option.
Step 1: Log into your online account at account.gradguard.com
Step 2: Select the renters insurance policy you are wanting to Pause
Step 3: Scroll to the bottom of the policy page and select "Pause Policy"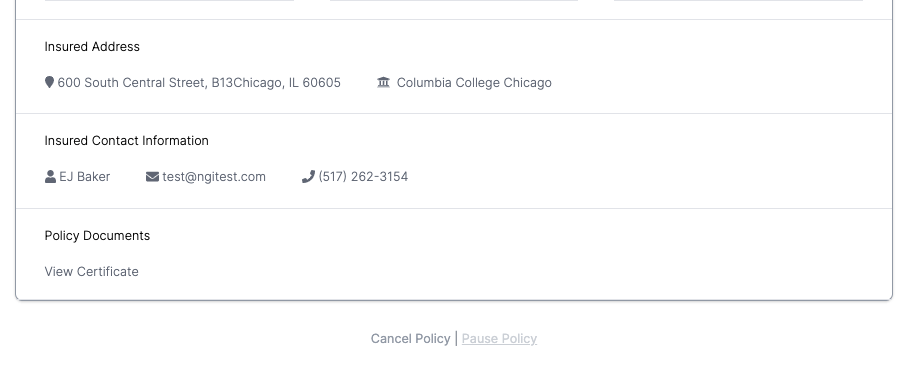 Step 4: Select the date you wish for your policy to pause, and then select the date that you wish your policy to resume and click "Confirm"
Step 5: Be sure the information on the final pop-up is correct, then select "Confirm Pause." You will then receive an email the summarizes the pausing of your policy.

Step 6: You're done!
An agent is also able to help you pause your policy if you need assistance! You can reach one through:
Here is a step by step guide to cancel your renters insurance policy online:
Step 1. Log in to your GradGuard account at account.gradguard.com.
Step 2. From the home page, select the renters insurance policy that you wish to cancel.
Step 3. Scroll down to the bottom of your policy information page and click "Cancel Policy."

Step 4. Select the date that you wish the coverage to cancel. Remember, you can only cancel a policy for today's date or a date in the future. GradGuard does not honor backdated refunds and cancellations*.
Step 5. Select the reason you are canceling your policy from the drop-down menu and click "Confirm."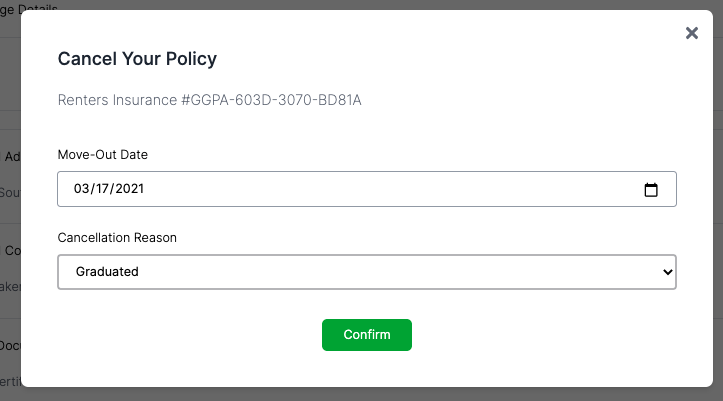 Step 6: Review the summary of cancellation information. Once you are sure everything is correct and you want to set your coverage to terminate, you MUST click "Confirm Cancel" to finalize the cancellation of your policy.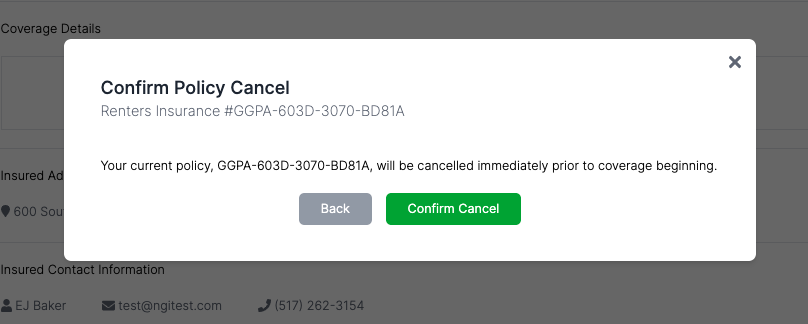 Step 7. Once your policy has been cancelled, you will receive an email confirmation summarizing the cancellation of your policy. If you do not receive this email, please contact us so we can be sure you receive it!
*Note that partial month refunds are not available. Because our policy covers worldwide personal property coverage, we do not honor backdated cancellations or refunds. Upon purchasing a policy, it is required that the purchaser agrees to terms and conditions and an understanding of the payment schedule. As GradGuard is a separate entity than the university, we are not notified when a student moves out of a residence or withdraws from the university. It is the responsibility of the insured or account holder to cancel a policy when coverage is no longer needed. Cancellation must be requested by the account holder or the insured. 
Having trouble canceling online? Click here to submit a contact us form with the name of the student, date of birth, and university and an agent will assist you.
You can update your billing information at any time within your online account at account.gradguard.com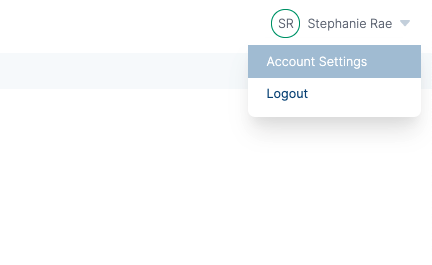 Just select your name in the top right and click "Account Settings."
Once you do so, select "billing" then choose if you need to edit the card information for your renters policy or your tuition plan and click "Edit."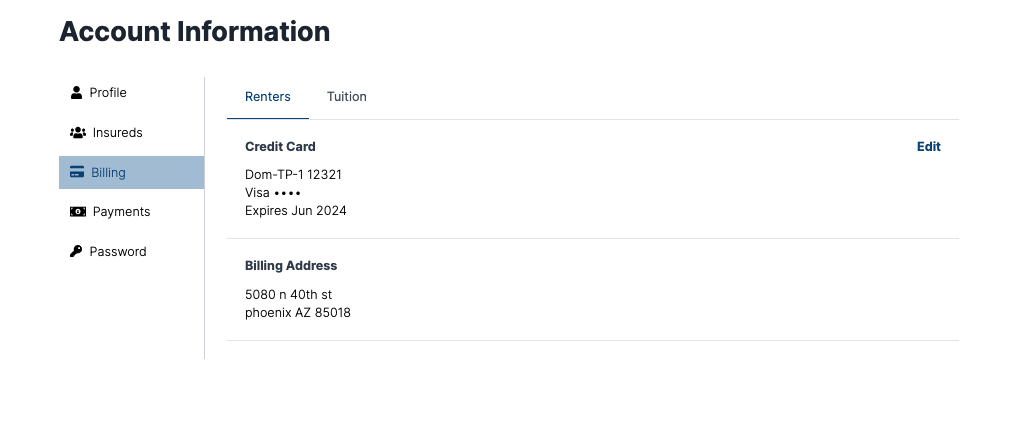 That's it! Make sure to save your updated card and details. Note that you can only edit the billing information if you are the account holder of the policy that has been purchased.
Insured address: Yes
You may update your insured address. (as long as it is within the same state) To make that change, please give us a call (866-985-7598), chat, or email us. 
 *Note: If you are currently living in on-campus housing and are moving to a different dorm/apartment that is also on-campus housing, your address does not need to be updated. 
Add a roommate: Yes
You may add a roommate after you purchase a policy. We don't encourage students to share policies unless you have a minimum of $5,000 personal property and $25,000 liability per person. Note that when you add a roommate to your policy, the coverage limits are split between everyone listed.
To add a roommate, please give us a call (866-985-7598), chat, or email us. 
Add an interested party: Yes 
You may add an interested party after you purchase a policy. We are able to add a landlord, parent, or property management company as one of these three things at any time! Just send us an inquiry, give us a call, chat with us, or send us an email so we can get them added for you.
Adding an interested party, party of interest, or additional interest means that the person or company you add is able to request details about your policy from GradGuard as well as be notified if you cancel your policy.
Upon your initial enrollment, we take a payment the date that you purchase the policy, however, the coverage for the insurance will not begin until your selected start date.
If you have chosen the annual payment plan, then this is the only charge that GradGuard will take from you. Once again, it is taken on the date that you purchase the policy, not the date that the coverage begins. If you have selected to auto-renew the policy, we will remind you at least 30 days in advance that your policy is set to renew. 
If you've selected the monthly payment option, then we take a monthly payment on the date you purchase the insurance, then your next payment will come out 15 days after the start date of your policy; that date will now be your recurring payment date when the monthly premium is automatically taken out of your account.
*For example, if you purchase a policy on June 2nd, but do not want the coverage to start until July 1st, then you will be charged your first months premium on June 2nd; this payment is for your first full month of coverage going from July 1st to August 1st. Your second payment that comes out 15 days after the start date of your policy which would be July 16th is for the next months worth of coverage going from August 1st to September 1st; so on and so forth. 
Your policy documents are conveniently located in your online account. The two documents that you will find are: 
GradGuard College Renters Certificate:  This document serves as proof of insurance for an active or pending policy for the listed dates. If your landlord or property management company is looking for a copy of your policy or the declarations page, 9 times out of 10 this is still the best document to give them. 
GradGuard Policy: Markel, the underwriting company for GradGuard, uploads the complete policy within 3-4 business days after your first payment. For a sample copy, please click here: 
Where is the certificate or policy located within my online account? 
On the top menu bar, please click on "policies". Once prompted, choose the policy you wish to get a certificate of. This will take you to the policy information. At the bottom of the page, you may click on the document. 
How do I save this? 
Once you've opened the policy or certificate in a new screen, you may right-click, choose "print,"  and then change the printer option to "save as PDF". 
GradGuard is a separate entity than the university that the student who is covered attends so we are not notified when the student moves out of the residence. Thus, you need to notify us that you want the policy to be cancelled. You agree to this within the terms and conditions when you purchase the policy. You can cancel or pause your policy anytime within your online account at account.gradguard.com
Our Renters Insurance policy will provide coverage for on and off-campus housing. Personal property coverage protects the student's belongings worldwide from theft, burglary, and malicious damage. The policies include liability coverage which would provide protection of the insured location due to fire, water damage, etc. 
You can read a sample policy by clicking here.
You can take a look at our plans at GradGuard.com and go through the quote process to see what makes sense for you. If you would like to speak to an agent, give us a call at 866-985-7598.
Note: GradGuard does not cover accidental damage or the normal wear and tear of items.
Bike: Yes
Items such as bicycles, skateboards, and roller blades are all covered under this policy.
However, any motorized or electric vehicles are not covered. Any bike, scooter, or other modes of transportation powered by a motor or battery are not covered, nor are any modes of transportation that are designed for street use. 
Be sure that you have documentation and proof that you owned the item before you submit a claim.
Laptop: Yes
Yes, items such as laptops, phones, head phones, speakers, and other electronics are covered under your renter's insurance policy. 
Cellphone: Yes
Yes, your phone is covered in the case of an event such as theft or another covered peril. Please note that we do not cover accidental damage such as a cracked screen.
Since GradGuard comes with worldwide personal property coverage, your personal belongings such as clothes, laptop, smartphone, tablet, etc. are covered while you are studying abroad! However, since we are only able to attach a US-based address to a policy, the liability coverage does not extend outside of your U.S. based address. 
If you purchase a GradGuard College Renters Insurance policy, your personal items are covered when in storage. However, any unintentional damage to the structure of the storage unit will not be covered. Please refer to the policy for specific details, limits, and exclusions.
Purchasing Renters Insurance is quick and easy. Please click here to enroll. Or you can take a look at our plans at GradGuard.com and go through the quote process to see what makes sense for you. If you would like to speak to an agent, give us a call, 866-985-7598.
Need more specifics: 
School already started, is it too late to purchase Renters Insurance?
GradGuard College Renters Insurance is available for purchase at any point during the school year.
I am a parent, can I purchase a renters policy for my student?
Yes, you can! When you're enrolling, you can make yourself the account holder by selecting "someone else". The form will then ask you to tell us about yourself and your student. This will allow GradGuard to e-mail you important information regarding your student's policy. 

I am not a student, am I eligible for GradGuard's Renters Insurance? 
Anyone is welcome to purchase GradGuard College Renters Insurance. We have specific endorsements tailored to college students, such as low deductibles and worldwide personal property coverage.
However, in order to enroll at this time, you must select a university name. If you are not a student, we recommend selecting the university that is closest. Then, just be sure to select that you are living off-campus while going through the enrollment process.
How much is the stuff in your room worth? You may have more in your dorm or apartment than you think. Use our calculator to help estimate the total value of everything you have with you to help determine whether you can afford to replace your belongings or should consider a renters insurance policy. Click here to use a calculator to help determine your amount. 
For your personal property coverage, this can include a laptop, smartphone, gaming system, television set, clothes, bicycle, etc. 
For liability coverage, you will want to check with your residence to see if they have a specific required coverage limit. 
Yes, you can! GradGuard offers renters insurance to students living both on-campus and off-campus! You will be able to select "off-campus" when you are going through the quote process at www.gradguard.com/renters. Then you will just proceed as normal and enter in your off-campus address as the insured address.
Your rental company or landlord does not need to be associated with the university for you to purchase a policy.
What is Liability Insurance? 
Liability coverage protects you financially for unintentional damage to your residence or bodily injury when you are found legally liable, within your residence premises. This helps cover the cost of related damages and required legal defense. 
Here are just a few examples when personal liability may help protect you:
Your friend accidentally trips over your longboard that you left in the middle of your room and breaks an arm.
You set off the sprinkler system in your residence hall, causing the floor beneath you to flood.
You have a grease fire in the kitchen that causes damages to both your apartment and the adjoining neighbor(s). 
As with all insurance, the coverage is subject to limits and exclusions. 
Do I Need Liability Insurance? 
In order to purchase GradGuard College Renters Insurance, liability coverage must be selected. We do not currently sell property-only policies. You may choose from the following amounts: 
$25,000
$50,000
$100,000
$300,000
For specific rates, please click here to get a quote.  
How Much Liability Coverage Do I Need? 
If you are on campus, the suggested amount automatically appears. On www.gradguard.com you may increase or decrease this by toggling the button right or left. We encourage you to evaluate how much you could afford to pay in the event that one of the unforeseen circumstances listed above occurred. Consider any assets you may have as well. 
If you are off-campus, many landlords and property management companies require a specific amount of liability in order to move in. Please check with your property manager to confirm the amount necessary to move in. 
A deductible is the amount of money withheld from your claim reimbursement after a loss. For example, your two-year-old laptop is stolen and the actual cash value of that laptop is $500, but the cost to replace it is $800. GradGuard's program will reimburse for the replacement cost of your laptop, less the deductible. 
$800 (laptop) - $100 (deductible) = $700 claim payment

Deductibles keep the cost of insurance lower and are put in place to mitigate the financial exposure of the insurer in the event there are multiple claims on a given policy. Most renters insurance policies have a minimum deductible of either $250 or $500. The GradGuard College Renters Insurance policy has a deductible as low as $100*, which provides significant savings to our policyholders in the event of a claim.
You choose your set deductible at the time of purchase. A deductible is on a per claim basis rather than per item basis. 
*Florida policies require a minimum deductible of $250.
To file a renters insurance claim, you will want to contact the underwriter on your policy, Markel, at 800-236-3113. This will be considered your "First Notice of Loss" and you will be contacted by a claims adjuster within 2-3 business days to review your claim.
Here are some things you will need:
Be sure to have your policy number handy! This begins with RTH80-- and can be found in your online account.
You need some kind of proof that you owned the item. This can be done by receipts, bank statements, photographs, or serial numbers!
If this was a theft, you will need to obtain a police report by either local or campus police.
In the end, the typical turnaround is 1-2 weeks from the time you give your First Notice of Loss until a replacement has made its way into your hands.
You can also file your First Notice of Loss documentation within your online account at account.gradguard.com.
GradGuard College Renters Insurance is underwritten by Markel American Insurance Company, Waukesha, WI. (MKL NYSE), a member of the 2.3 billion dollar Markel Corporation. Rated "A+" (Excellent) by A.M. Best, Markel has been in business for over 80 years.
N14 W23800 Stone Ridge Drive,
Waukesha, WI 53188.
*If you live in AK, CT, or RI, your policy may be underwritten by Assurant Specialty.
Tuition Insurance Questions
Tuition Protection Plan provides benefits to help safeguard the investment made in college/university. It can cover the cost of your tuition, academic fees, and housing if you have to completely withdraw for a reason such as covered Injury, illness, or mental health condition.
-You are able to view a sample tuition plan by clicking here. The plan you receive does depend on the state your student will be living in, so just be sure to select the correct state to get an accurate plan.
-You are able to see a quote here and find more information here.
Need more information? Let's break it down a bit more:
What does tuition insurance cover?
Tuition insurance can reimburse you for up to 100 percent of tuition costs, as well as covered fees, room, and board. The Tuition Protection Plan also includes Student Life Assistance benefits.
What is included in non-refundable costs?
Non-refundable costs can include tuition, fees, room and board costs that are not refunded by the school.
Why should I purchase tuition insurance?
Just as you purchase insurance to protect your home and car, tuition insurance allows you to protect the investment you make in higher education for yourself or your student. Tuition insurance can reimburse you for non-refundable tuition, fees and room and board costs (up to the amount of your Plan limits) should your student have to withdraw from school for a covered reason.
Your plan offers coverage for pre-existing medical conditions when: 
a. The insured student, on the plan purchase date, did not have any symptoms of the pre-existing condition and was medically able to attend school for the covered term; 
b. The insured student  was covered by a similar plan issued by the Company within the previous four months; 
or 
c. A loss is due to the death of the insured student.  
If there is a chronic condition, you may want to have your child see their general practitioner and get it on their record that they were fit to attend school prior to classes beginning.
What is an existing medical condition?
An existing medical condition is an illness or injury that the student was seeking or receiving treatment for or had symptoms of within the 60 days prior to purchasing the Plan. Please also note that you may still be covered for losses caused by reasons other than those related to an existing medical condition. See the Certificate of Insurance/Plan for details. 
(You can view a sample tuition plan by clicking here. The plan you receive does depend on the state your student will be living in, so just be sure to select the correct state to get an accurate plan.)
You can get a quote here and then continue to purchase your plan online. Or you can contact us at 877-794-6603.
You must purchase the Plan prior to the first day of classes. 
No. You must enroll in Tuition Insurance prior to the first day of classes. 
GradGuard's Tuition Insurance is available to residents of ALL states. The student must be attending an accredited post-secondary institution. Study abroad programs are also eligible for coverage if through an accredited institution.
Need more information: 
Any student who is healthy enough to begin classes, attending an accredited 4-year non-profit that offers this Tuition Protection Plan program, and responsible for tuition costs, may be eligible to purchase the Tuition Protection Plan. This includes students at a college or university program based in the United States. This does not include private high school, professional development or trade school, or other academic programs. Tuition Protection Plan may not be available in all states. Eligibility and coverage variations are determined by the student's state of residence defined during the enrollment process.
Is the coverage available for foreign students studying in the U.S.?
Students lawfully present and residing in the US who pay tuition to attend an eligible institution can insure their tuition with GradGuard.
Am I covered while studying abroad?
Students studying abroad who pay their tuition and fees to their home school, not the study abroad program, are eligible to purchase coverage.
Yes. Students who pay for all or part of their tuition using a student loan are still eligible for our insurance and for a refund of their tuition. If the student is still responsible for paying back the student loan after they withdraw, then GradGuard Tuition Insurance from Allianz Global Assistance may refund that amount minus any refunds given by the school. The same applies for any financial aid. However, tuition reimbursement insurance only reimburses expenses paid out of pocket, not grants or scholarships paid directly to the school.
Login to your account at account.gradguard.com to access your documents at any time. If you prefer, you can also call us at 877-794-6603 and we'd be glad to send them via email. 
To make any changes to your plan, please call us at 877-794-6603. Keep in mind that all changes need to be made prior to the first day of term courses. 
Yes, a student needs to purchase any additional coverage prior to the first day of classes. You may cancel your existing coverage and re-enroll with higher limits prior to the first day of classes, if you wish to increase your coverage. (Coverage options may vary by school.)
You can make changes to your Plan as long as it is prior to the first day of class. Please call 877-794-6603 to make changes. 
Please call 877-794-6603 to begin the claim process. Once you have filed your claim, you will receive a confirmation email as well as required documentation.
Once you have your documentation completed, please mail, fax or email it to:
Allianz Global Assistance
Attn: Tuition Claims Dept.
P.O. Box 72031
Richmond, VA 23255-2031
Fax: (804) 673-1469
Email: tuitionclaims@allianzassistance.com
Include Reference Number in Subject Line or Body of email.
Once a claim is approved, payment is made directly to the Planholder. The Planholder is the individual who purchased the insurance. The Planholder will have the option to split payment and have payment made to the university if there is a balance owed. 
Since your satisfaction is our priority, we are pleased to give you the opportunity to review your plan. If you are not completely satisfied for any reason, you may cancel your plan at any time and receive a refund of any unearned premium. Please note that this refund is only available if a claim has not been initiated.
Please call us at: 877-794-6603 for cancelation inquiries.
Plans may be canceled and refunded in full prior to the first day of classes. For cancelation inquiries please give us a call at 877-794-6603.
Student Life Assistance is included with all GradGuard Tuition Insurance products from Allianz Global Assistance. This is a free service that provides 24-hour assistance to students and their parents in emergency situations. For example, Student Life Assistance staff can help families travel to see their hospitalized student, assist in arranging to transport a student home after receiving medical care, or arrange for a sick or injured student's car to be driven back to his or her home.
Insurance coverage is underwritten by Jefferson Insurance Company (NY, Administrative Office: Richmond, VA), rated "A+" (Superior) by A.M. Best Co., under Jefferson Form No. 107 series. Allianz Global Assistance is a brand of AGA Service Company. AGA Service Company is the licensed producer and administrator of this plan and an affiliate of Jefferson Insurance Company. The insured shall not receive any special benefit or advantage because of the affiliation between AGA Service Company and Jefferson Insurance Company.