Whether you're starting another year of college or have recently graduated, it's likely that you currently live in a rented apartment or residence hall or will do so in the future.
It's essential to take a moment and consider the value of the belongings within your living space. From your crucial items for student housing life to your laptop, mini fridge, clothes, and more, so many of your cherished possessions reside there.
But have you ever thought about the repercussions of losing it all? Would you have the financial means to replace everything?
Why is Renters Insurance Important
This is precisely why renters insurance exists – providing a safety net for property losses, damages, and liability risks. Imagine the scenario where your TV, cell phone, or school supplies are stolen, damaged, vandalized, or destroyed in a fire or another natural occurrence. Your personal belongings are covered with renters insurance, offering you peace of mind and financial protection in such unfortunate situations.
Renters insurance is beneficial for both college students and recent graduates. Both residence halls and apartments come with their fair share of dangers and risks, and the cost of replacing all your valuable possessions on your own can often be too high.
The National Association of Insurance Commissioners released a statement about the necessity of renters insurance for college students living independently.
Many students may not think dorm insurance is not important while living on campus, but no matter where you live, it's wise to protect your belongings.
How College Students Can Protect Themselves
Thankfully, there's a solution: GradGuard, a trusted provider of renters insurance that offers protection for your property and liability coverage. GradGuard provides personal property coverage at its original cost, ensuring you can replace your damaged items with new ones instead of settling for their depreciated value. Speak with an insurance agent to determine the best amount of coverage for you!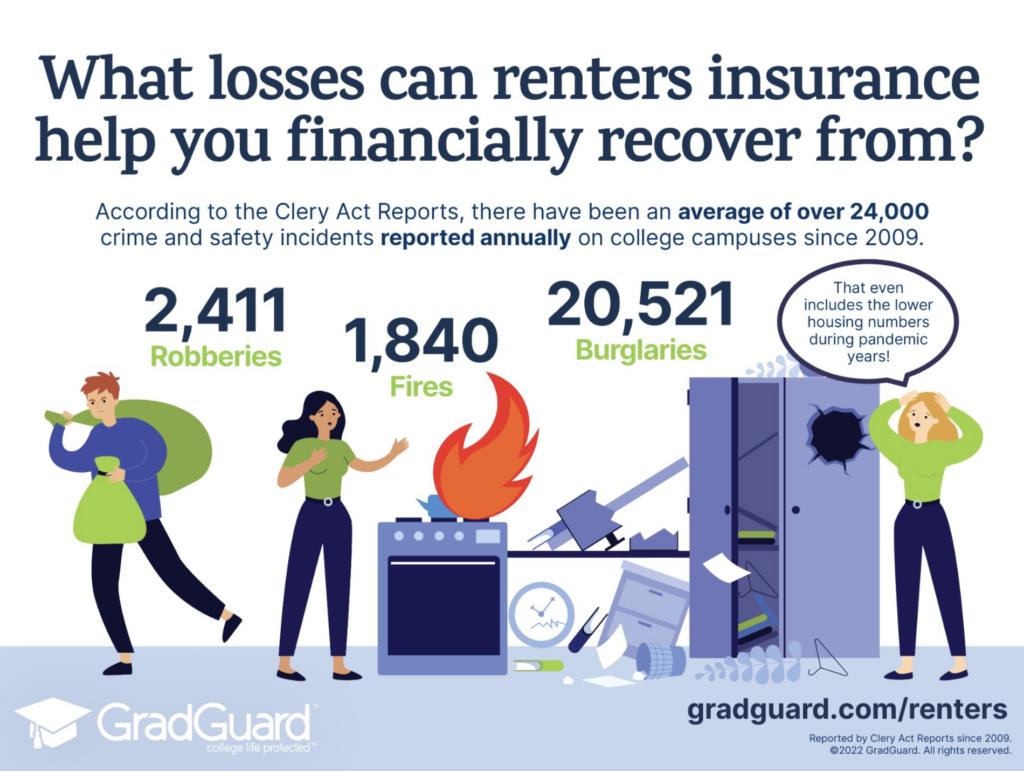 Don't leave the fate of your valuable belongings to chance. Safeguard your possessions and secure your financial well-being with GradGuard Renters Insurance. Whether you're a student or a recent graduate, on or off campus, it's a wise investment that can help offer protection and peace of mind.
Why GradGuard is the #1 Solution for College Students
Here are some more reasons why GradGuard is a good fit for college students:
Customizable coverage: GradGuard offers a variety of insurance products that can be customized to meet your specific needs.
Affordable rates: As a college student, you likely have a tight budget. GradGuard's insurance products are designed to be affordable, with rates often lower than other insurance options.
Easy enrollment: GradGuard's enrollment process is simple and straightforward, with online applications and quick approval times, without having to jump through many hoops.
Peace of mind: With GradGuard, you can have peace of mind knowing that you are protected from unexpected expenses that can derail your college experience. Whether it's a stolen laptop, a medical emergency, or a sudden need to withdraw from school, GradGuard's insurance products can help you recover and move forward.