For families with incoming college students, back to school will look a little different this year. Their seniors are becoming freshmen yet again. However, this time, they are likely moving out of the house! Last year alone, over 20 million students enrolled in undergraduate and graduate programs across the United States.
If your child is among the millions heading to college this year, there's a lot to organize before the fall semester begins. Despite all the effort put into selecting the perfect college, families need to think about the challenges their child could face in their education.
According to the National Student Clearinghouse, 25% of first-year college students do not return for their second year. Leaving college can be challenging for students and families, especially if refunds are not available for tuition, housing, and fees.
Discover how you can safeguard the financial investment in your child's education and potentially secure a refund if they are compelled to withdraw mid-term due to serious reasons, including accidents, injuries, or physical and mental health conditions.
---
Gain Insights into Student Withdrawals
Tens of thousands of students withdraw from college each year due to medical reasons, such as anxiety, depression, stress, infectious diseases like mono and flu, or even physical injuries like concussions. Even for those who don't withdraw, nearly half (41%) have contemplated doing so over the past year, according to the 2023 Lumina Foundation Gallup State of Higher Education Report. Of these, 55% attribute emotional stress as a driving factor. The fear of placing an undue financial burden on themselves and their families often prevents students from withdrawing even when they feel it's necessary.
It's, therefore, crucial for college-bound families to engage in open conversations about a student's emotional well-being in the lead-up to the fall semester and to maintain regular check-ins throughout the year.
Familiarize Yourself with Your School's Refund Policy
Are you aware of your school's refund policy? We've found that a lack of familiarity with the reasons and timing of student withdrawals can lead to a scramble if you require a leave of absence. The 2022 College Confidence Index notes that 74% of students and 66% of parents must be made aware of their school's tuition refund policy. Before students and college parents attend first-year orientation, we recommend you thoroughly review the institution's refund policy.
Most colleges only offer tuition refunds within the initial weeks of the academic term, and hardly any provide reimbursements for housing expenses or academic fees. It's imperative to be well-informed about key withdrawal dates, necessary documentation, and other factors to avoid potentially losing detrimental sums of money should a student have to medically withdraw mid-term.
Assess Your Family's Ability of an Additional Semester's Cost
If your college does not offer tuition or academic refunds or if you wish to be prepared for the possibility of withdrawal beyond the refund period, you'll need to evaluate whether you can afford an extra semester. You're not alone if this poses a challenge; more than half (52%) of parents indicate difficulty in covering the expenses of an extra semester, as per the College Confidence Index. Given higher education costs, many families need help paying for a four-year degree, and the added financial strain of an extra semester may be too much to bear.
Explore Tuition Insurance Availability
Many colleges and universities offer tuition insurance options, which can provide a refund for tuition, room and board, and academic fees if a student must withdraw mid-term. Some institutions collaborate with insurance providers like GradGuard, the only company in the nation that can guarantee up to a 100% refund for students who withdraw for reasons covered by the policy during the insured period.
While many institutions, including Auburn, Duke, Harvard, NYU, Purdue, Tennessee, and Vanderbilt, offer tuition insurance to their students, certain schools might not. It's prudent for families to inquire about this protective option. If there is no official school program, GradGuard is an alternative option, extending its plans to students attending four-year private or public nonprofit institutions in the U.S.
Understand the Scope of Tuition Insurance Coverage
Not all tuition insurance plans extend the same coverage. Selecting a protection plan for various scenarios that could lead to a student's withdrawal from classes is essential. Tuition insurance can reimburse costs associated with a covered term, including tuition, housing, and other academic fees, in case of a medical withdrawal for a covered reason.
GradGuard's Tuition Insurance plans can provide reimbursement for covered injuries, illnesses, mental health conditions, and other covered reasons.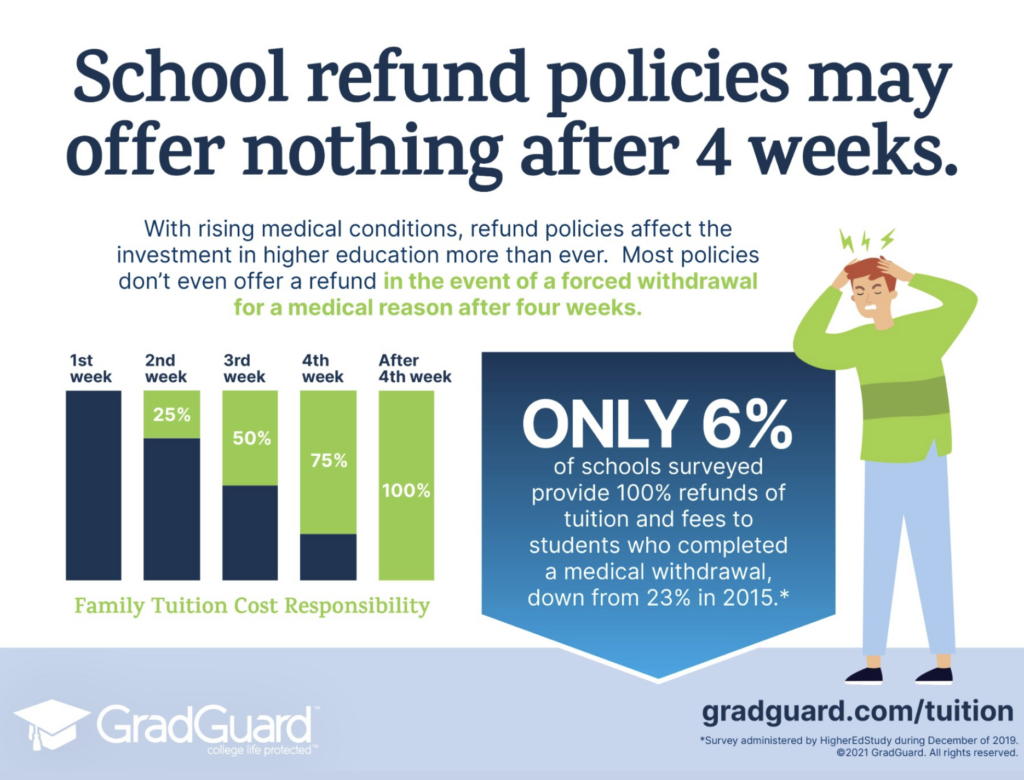 Students should not feel the need to remain in school solely due to financial concerns. As the academic year approaches, it's important for families to feel prepared for any unforeseen circumstances. It can be helpful to familiarize yourself with the institution's refund policy and consider tuition insurance, so you can have peace of mind knowing that your student's well-being won't be compromised if they need to withdraw for valid reasons. We want you to feel confident in your decisions and know that we're here to support you every step of the way.